"All Eyez On Me" Marks Tupac Shakur's Posthumous Return to American Cinema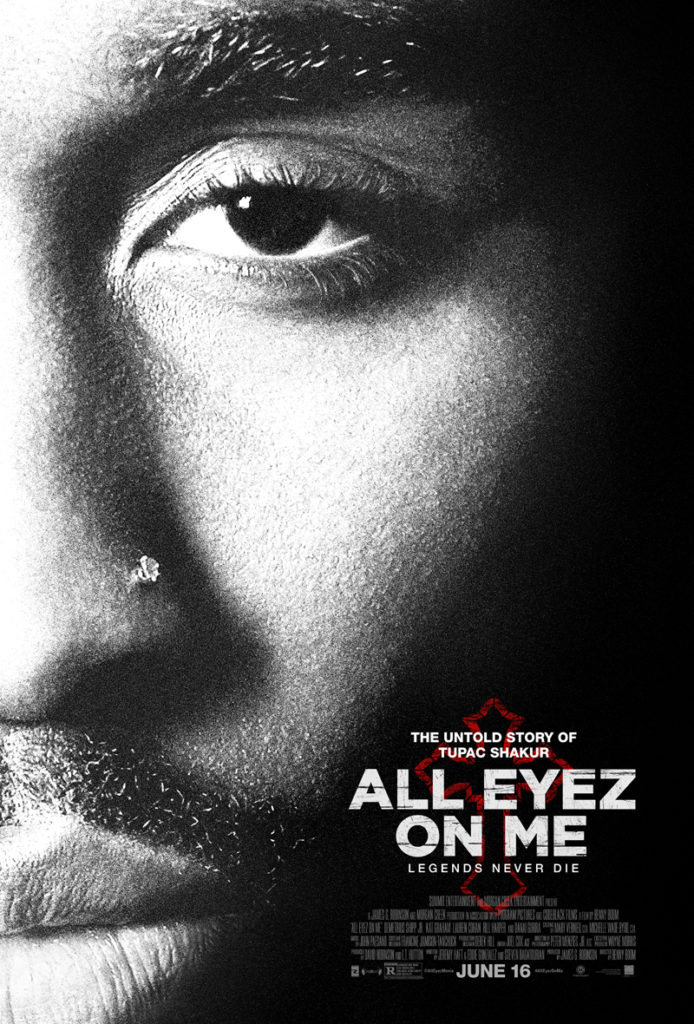 The brief but always compelling life of Tupac Amaru Shakur felt practically written for the silver screen.  It had all the elements of a blockbuster: an enigmatic hero, a rogues gallery of villains, sex, violence, a triumphant rise, a tragic downfall, and a ready-made soundtrack of hits.  Tupac, who was unusually self-aware for someone so young, knew how captivating his every move was – "I feel so confident and so sure about the man that I am that you can watch me when I fail, when I cry, when I get shot, when I got to jail, when I die – you can watch it."  His compulsion to reveal himself made him a magnet for criticism.  Music journalist Touré claimed that his public persona was an elaborate, self-destructive, performance.  Noted cultural critic / jazz enthusiast Stanley Crouch described him as an "anarchic individualist" who corrupted America's youth.  Whoever Tupac truly was, few have been ambivalent about his passion for dramatizing his own life and the lives of others.  Tupac was not just a music icon.  He was a multi-talented artist who sometimes characterized his rap career as a means to an end – "I'm an actor. I just happen to rap in my spare time instead of being a waiter," he explained on the set of Gridlock'd in 1996.
Given Tupac's incredible life and flair for the dramatic, it should surprise no one that Hollywood has been itching to tell his story for more than twenty years.  Within months of his death on September 13, 1996, HBO Films announced an adaptation of Armond White's (yes, that Armond White) book, Rebel for the Hell of It: The Life of Tupac Shakur, for cable.  If you are now asking yourself, "How did I miss an HBO film about Tupac," stop – it never materialized, becoming the first of many failed attempts to portray 'Pac's life.  Over the past two decades, only the excellent, Academy Award-nominated, documentary Tupac: Resurrection made it to theaters.  Until now.
On Friday, June 16, 2017, a day on which Tupac should have celebrated his 46th birthday, Summit Entertainment / Morgan Creek Entertainment released All Eyez On Me, the already controversial film that purports to tell the "Untold Story of Tupac Shakur," to theaters everywhere.  All Eyez On Me has walked a long, perilous, road to your local cinema and, contrary to what you may have read online, it was not greenlit in order to capitalize on the success of the 2015 N.W.A biopic, Straight Outta Compton.  All Eyez On Me was first announced in February 2011 after years in "development hell" and went through three different directors (Antoine Fuqua, John Singleton, and Carl Franklin) before Benny Boom (Next Day Air) got the nod.
The filming of All Eyez On Me began in December 2015, years after the settlement of a lawsuit between Morgan Creek and Amaru Entertainment over the rights to Tupac's story and just days before the expiration of Morgan Creek's rights to Tupac's music.  Shooting wrapped in April 2016 and the film's supporters within the Hip Hop community have been working hard to generate interest and secure distribution ever since.  One of the film's producers, L.T. Hutton, who worked on Tupac songs like "Watch Ya Mouth" at Death Row Records, has promoted the film online, on television, and in person around the country.  Rap artists who knew or admire Tupac, like Snoop Dogg and The Game, have praised the project.  The film's pre-release acclaim has come from at least one surprising source.  Sean "Puff Daddy" Combs, the Bad Boy Records founder who former L.A.P.D. detective Greg Kading has accused of putting a million dollar murder contract out on Tupac and Suge Knight, was reportedly moved by a screening.  One very important party has refused to participate in the campaign.  Tupac's estate, now overseen by former Interscope executive Tom Whalley, has been eerily quiet.  Weeks before All Eyez On Me's release, the estate announced a new Tupac documentary directed by Steve McQueen (12 Years a Slave and Shame).
All Eyez On Me, which is approximately two hours and twenty minutes long (twenty-five minutes shorter than an earlier, pre-Summit Entertainment, cut), attempts to tell the entire story of Tupac's life.  [SPOILERS AHEAD.]  In fact, it begins before Tupac is even born. The film opens with Afeni Shakur (played by The Walking Dead's Danai Gurira), who is visibly pregnant with Tupac, giving a speech on the steps of a New York City courthouse following her exoneration in the Panther 21 trial.  The film then fast forwards more than twenty years to Tupac's incarceration in Upstate New York. A prison interview of Tupac frames the film's depiction of his first 24 years. Some of the scenes from this first part of All Eyez On Me include:
Tupac's early years in New York City and the impact that the F.B.I.'s harassment of Black Panthers like his mother Afeni and step-father Mutulu had on his childhood;
Tupac's move to Baltimore, Maryland, his relationship with Jada Pinkett-Smith, and his early acting experiences at the Baltimore School for the Arts;
Tupac's relationship with Kenneth "Legs" Saunders, a surrogate father figure who taught him about the "Street Life";
Tupac's life in Marin City, California and introduction to Leila Steinberg, his first manager;
Tupac's time with the Digital Underground, the Oakland, California rap group that gave him his start in the music industry;
Afeni's crack cocaine addiction and the effect it had on her relationship with Tupac;
Tupac's signing to Interscope Records and the controversy surrounding his first two albums, 2Pacalypse Now and Strictly 4 My N.I.G.G.A.Z…;
The murder of six-year-old Qa'id Walker Teal at an outdoor celebration of Marin City's fiftieth anniversary on August 22, 1992;
The filming of Juice and Above the Rim, two memorable films that starred Tupac, and Tupac losing a role in John Singleton's Higher Learning because of the legal troubles he was embroiled in;
Tupac shooting two off-duty Atlanta police officers who were harassing an African-American motorist on Halloween in 1993;
Tupac's creation of the "Thug Life" code with his imprisoned step-father Mutulu;
Tupac's early, mentor-mentee, relationship with The Notorious B.I.G.;
The alleged sexual assault of Ayanna Jackson in November 1993 that led to Tupac's incarceration; and
The botched robbery of Tupac at Quad Recording Studios in New York on November 30, 1994, the night before he was convicted of sex abuse.
As long as All Eyez On Me is, that is still an awful lot of ground to cover and the film moves quickly from point to point in Tupac's life.  It hits all of the important markers but hardcore Tupac fans are unlikely to learn very much and those who are less familiar with his life may find it hard to follow.  To be completely honest, Tupac's complicated, eventful, life may best suited for a mini-series on an outlet like HBO or Netflix.
Following the wrap-around interview's conclusion, All Eyez On Me proceeds to Tupac's release from prison and the last eleven months of his life.  Some of the moments from Tupac's Death Row Records era that are portrayed in the film include:
Tupac's relationship with Suge Knight and the violent atmosphere at Death Row during the 1990s;
Tupac's recording of "California Love" with Dr. Dre and "2 of Amerikaz Most Wanted" with Snoop Dogg and Daz Dillinger;
Tupac's "relationship" with Faith Evans, his feud with her husband, The Notorious B.I.G., and the release of his classic diss record, "Hit 'Em Up";
The strained relationships between Tupac and Jada Pinkett-Smith (who has criticized this film's accuracy on social media) and Tupac and Snoop Dogg at the end of Tupac's life;
The Death Row concert at the House of Blues on July 4, 1996;
Tupac's love affair with Kidada Jones, the daughter of producer / mogul Quincy Jones;
Tupac's unhappiness with the way that Suge Knight and Death Row Records were handling his finances;
Tupac's promotion of Death Row East in Bryant Park following the MTV Music Video Awards in New York on September 4, 1996;
Tupac's assault of alleged South Side Compton Crip Orlando Anderson at the MGM Grand on September 7, 1996; and
The drive-by shooting hours after the MGM Grand fight that resulted in Tupac's death six days later.
Two things are noticeably absent from the end of the film: (1) the six days that Tupac spent fighting for his life at University Medical Center in Las Vegas; and (2) an exploration into who may have been responsible for his murder.  The film ends as Tupac is pulled from Suge's BMW and placed on the asphalt in the middle of the Las Vegas Strip.  It does not include Tupac's infamous alleged last words – "Fuck you" to the police officer who was questioning him about his shooter's identity.
Because I am not a film critic, I am not going to analyze the merits of this film's direction, editing, cinematography, or acting in great detail. As someone who has studied Tupac's life and music for over twenty years, however, I do want to provide a few of the stray observations I made in my notebook as I watched the film. Below are a sample of them:
For the most part, the film is factually accurate, probably more so than Straight Outta Compton.  Some things are depicted differently than they appear in Tupac's historical record, however, including the length of Tupac's relationship with Kidada Jones; Tupac's performance of "Hail Mary" at the House of Blues; Tupac's reading of his poem "Jada" to its subject, Jada Pinkett-Smith; Tupac's managerial role at Death Row East (actually run by Eric B) instead of Makaveli Records; and the timing of the attempted theft of Trevon "Tray" Lane's Death Row pendant by Orlando Anderson at the Lakewood Mall;
I had been skeptical about Demetrius Shipp, Jr. (whose father co-produced Tupac's single, "Toss It Up") because of his lack of acting experience and the herculean task of portraying someone as well-known, beloved, and charismatic as Tupac.  While there is no Tupac but Tupac, I thought Demetrius did a more than adequate job capturing both Tupac's mannerisms and the various, often contradictory, sides of his personality.  There are a few moments in the film where Demetrius comes very close to embodying Tupac's essence;
The film has an admirable respect for the smaller details, most of which will only be noticed by hardcore Tupac fans.  Examples of All Eyez On Me's attention to detail include the original title of Tupac's album All Eyez On Me ("Euthanasia"); the green Nike jersey that Tupac was wearing when he was fatally wounded in Las Vegas and other items of clothing / jewelry that adorn him throughout the film; the dance moves of the Digital Underground during performances of the "Humpty Dance"; and Tupac's chain-smoking of Newport cigarettes;
Characters in the film who are depicted without the use of their real names are given amusing pseudonyms.  Jacques "Haitian Jack" Agnant is "Nigel," the false name used when Tupac's controversial Rikers Island interview with Kevin Powell was published in the April 1995 issue of Vibe magazine.  In the film, "Nigel" appears to be an amalgamation of "Haitian Jack" and James "Jimmy Henchman" Rosemond, the Brooklyn power player who is suspected of ordering the Quad Studios robbery.  Ayanna Jackson, the woman who accused Tupac of sexual assault in 1993, is named Brianna in the film;
I found the post-production substitution of Snoop Dogg's voice for that of actor Jarrett Ellis slightly distracting but the audience at the screening of the film I attended found it hilarious.  The performances of Money-B, E.D.I. Mean, and Young Noble as themselves took me out of the film a bit as well;
Some of this film's critics have argued that Death Row C.E.O. Suge Knight is not sufficiently menacing in All Eyez On Me.  Such critics overlook that Tupac's relationship with Suge was different than the relationships depicted in Straight Outta Compton.  According to many who were at Death Row in 1996, Tupac and Suge had a mostly friendly, arguably family-like, bond for most of the time that Tupac spent there;
Other critics have contended that Tupac is portrayed too negatively in the film and that his revolutionary qualities are underemphasized, particularly during the scenes depicting his time at Death Row.  Such critics forget the fact that Tupac could have been depicted more negatively.  The film does not show his association with alleged M.O.B. Piru Bloods in his last year, his alleged involvement in the brutal beat down of Bad Boy Records employee Mark Anthony Bell in December 1995, or his alleged assault of Death Row producer Sam Sneed at a label meeting in February 1996;
Bad Boy Records, which played an important part in the feud between Tupac and The Notorious B.I.G., is rarely mentioned in the film.  Bad Boy's founder and C.E.O., Sean "Puff Daddy" Combs, is similarly M.I.A.  That's a shame because their absence makes it difficult for Tupac newcomers to understand the nature of Tupac's beef with Biggie.  In his song "Against All Odds" and his infamous interview with Angie Martinez, Tupac explained that the persons he believed were responsible for the Quad Studios robbery were extorting Bad Boy / Puffy.  Tupac therefore set out to destroy Biggie, Puffy, and anyone connected with Bad Boy in order to diminish the bottom lines of the people who had nearly killed him;
The criticism that All Eyez On Me is not "real" because some of the artists who Tupac respected and worked with do not appear in the film is an unfair one, in my opinion.  This film, as released, is already populated by numerous artists who Tupac knew and collaborated with.  All Eyez On Me's script would have been too unwieldy had the writers attempted to include every artist who enriched Tupac's musical legacy.  I do feel, however, that a few of the people who were important to Tupac's life story, like producer Johnny J (who appears to have been cut from the film), his friend-turned-foe Randy "Stretch" Walker, and his one-time wife Keisha Morris, probably merited inclusion;
All Eyez On Me's very existence has also been criticized.  Scarface, who recorded "Smile" with Tupac and is one of the greatest Hip Hop artists who has ever lived, suggested it should not have been made, saying that Tupac should be allowed to "rest" in peace now that both Tupac and his mother Afeni are deceased.  Given the fact that Tupac wanted to "spark the brain that will change the world" and specifically recorded albums for posthumous release, I find it hard to believe that he would object to the continued interpretation of his life's meaning.  Whether or not All Eyez On Me is a proper vehicle for our edification is a different question that requires a subjective answer, however; and
The use of music during the final scene of All Eyez On Me is interesting.  After the Mike Tyson – Bruce Seldon fight at the MGM on September 7, 1996 (it is a shame that Tupac's Tyson fight song, "Let'z Get It On," was not included in this film), Suge Knight and Tupac drove toward a charity benefit at Club 662 in a black BMW 750.  Prior to the drive-by shooting that took Tupac's life, they were pulled over by Las Vegas police officers for playing music too loudly.  Tupac and Suge were reportedly listening to Tupac's then-unreleased album, Killuminati: The 7 Day Theory.  In All Eyez On Me, however, Suge and Tupac are never pulled over and instead listen to a song performed by E.D.I. Mean of the Outlawz that sounds like it was recorded after Tupac's death and "Blackberry Molasses," a 1996 single by an Atlanta R&B group called Mista.  While the substitution of "Blackberry Molasses" for Killuminati highlights Tupac's eclectic musical taste, the scene seems to suggest that Suge Knight did not enjoy R&B music, a suggestion I believe is inaccurate.
Although I do not think that All Eyez On Me is an ideal Tupac biopic, I did find reasons to applaud it.  I believe that the people who are responsible for its production sincerely wanted to do Tupac's story justice when making it.  People who are interested in Tupac's life, whether they are longtime fans or just curious about him, should see the film and make up their own minds about its merits.
Despite negative reviews and criticism from some people who knew Tupac, All Eyez On Me scored a forceful defense from Hip Hop journalist Ben Westhoff in L.A. Weekly and has been well-received by most audiences.  It performed well at the box office its opening weekend, surprising industry analysts by earning more than $26 million.  Whether or not the film will have legs at the box office remains to be seen.
One last note: although producer L.T. Hutton has discussed a soundtrack for All Eyez On Me in interviews, no release date has been set for one. I have created a playlist featuring most of the music featured in the film.  You can stream it here on Apple Music.